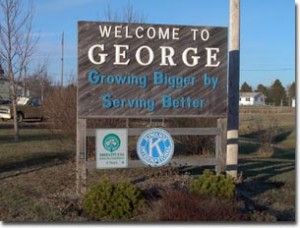 George is a vibrant city in Lyon County, Iowa, along the Little Rock River. The population of 1,080 residents (2010 census) features a busy main street business community and amenities including a public swimming pool, quick access to Otter Valley golf course outside of the town, a concrete walking/biking trail that circles the city, beautiful city park system and Locker Industrial park, named after former MLB pitcher Bob Locker. There are nine welcoming churches, an active Kiwanis Club, chamber of commerce and Frontier Bank and Security Savings Bank financial institutions. It is a friendly and caring community nestled in an agricultural setting.
The community features the George-Little Rock Community School District (Mustangs), with the elementary and high schools in George and the middle school combined with an elementary school in Little Rock. Northwest Iowa Community College is 18 miles away in Sheldon. George is located at 43°20′33″N 96°0′4″W (43.342523, -96.001157). The city has a total area of 2.41 square miles. The county's second largest employer, Sudenga Industries and Dur-A-Lift, is just outside of town. Other leading employers in the community are the George-Little Rock School District and the Good Samaritan Society senior care facility.
Schools:
George -Little Rock Community School District
Demographic Data
Population, Housing, Workforce, Education and more.
George is Home to These Manufacturers:


Learn more at the George, Iowa website: